Acrova 07A
ZESTINO ACROVA 07A Semi slick tyre:
Zestino Acrova 07A is a Hard compound (Treadwear 280) Semi Slick tyre which is a "must have" for drifters, who request ultra-long durability. And it is road legal.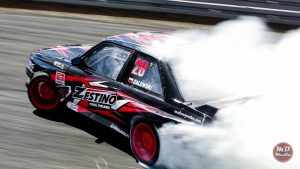 The Zestino Acrova 07A are newly developed Hard compound tyres with +2 mm of tread. They are the ultra-marathon drifting tyres among racing tyres, which last 3-4 times longer than any other tyre currently on the market! This saves a lot of money for several sets of tyres, time and also work for tyre changing! We call them the "Drifter's dream". And as usually with Zestino, also these tyres are super stable and give amazing control.
These tyres have E-mark and Energy label.
See our recommendations below.
Recommendations for usage: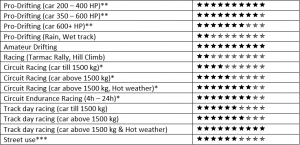 * – considering when full slick tyres are not allowed
** – For Drifting: Excellent choice for all amateurs, beginners, semi-pro drifters and pro drifters with a power output of less than 400 HP. It is also very commonly used as a training tyre by pro drifters (any power output) with a reduced tyre pressure to only 0,9 – 1.1 Bar (13 – 16 PSI) to have the best possible grip.
*** – Street use: Racing drivers know already, that Slick and Semi-Slick tyres need to be warmed up (get to working temperature) before they unleash their full grip potential. So when the tyres are cold, be more careful. Few minutes of driving will heat them up. As a general rule, the higher the tyre air pressure, the longer it takes to heat up. (When tyres are rolling, they are working = heating up). So if you need that ultimate grip earlier, then reduce the air pressure!
Technical specifications: