GREDGE 07RS
ZESTINO GREDGE 07RS Semi slick tyre:
This Soft compound Semi Slick tyre from Zestino is the ultimate Race, Drift and Street use tyre for ultra-high performance. They are the ones to go for Circuit racing (when full Slick tyres are not allowed), Tarmac Rally, Up-Hill racing, Track days** and Drifting*.
The Zestino Gredge 07RS provide drivers a supreme grip and confidence to drive at the very maximum limit and even beyond. Even when taking a corner too fast and starting to slide into a drift, you'll feel amazing control. These tyres are very predictable without any sudden grip losses.
These tyres have E-mark and Energy label.
See our recommendations below.
Recommendations:  
Are you aiming for a new track record? Then this Zestino Gredge 07RS is the best choice! Cold and foggy weather? Even more so!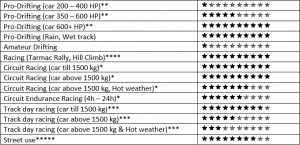 * – considering when full slick tyres are not allowed
** – For Drifting we recommend these Soft compound tyres only for drift cars with a power output of more than 600 HP! Why? With a less powerful car on these Gredge 07RS' you can start a drift, but you cannot keep it! The grip level is simply too high. If your car has more than 600 HP, you'll be the king! You will be the fastest while drifting and your opponents will be just sliding around with just a minor forward movement.
*** – Regarding Track days. Please realize that these Soft compound Semi-Slick tyres have the best Grip a road legal tyre can have. But they will not last as long as Medium or Hard compound Semi-Slick tyres. That's why we recommend this Soft compound only for Track days if not racing the whole day, preferably for lighter cars (less than 1500 kg) and on cloudy weather. Aggressive driving on hot tarmac for extensive period of time could cause a higher wear.
Track day on a day with nice weather and a heavy car? Go for Mediums!
Are you on a circuit in Spain or Portugal where it is very hot and you have a heavy car and do not want to buy tyres every day? Go for Hard!
**** – Tarmac Rally, Hill Climb and Circuit Racing: Zestino Gredge 07RS is for these Racing competitions very recommended! Because these Zestino Gredge RS tyres have so much grip, they even can prevent understeer, which is very important on front wheel drive cars! But do not forget to heat up the tyres before the race!
Is your car still understeering? Then try to lower the air pressure in the front and increase the air pressure in the rear tyres. For more info, how to setup your car correctly, read here.
***** – Street use: Racing drivers know already, that Slick and Semi-Slick tyres need to be warmed up (get to working temperature) before they unleash their full grip potential. So when the tyres are cold, be more careful. As a general rule, the higher the tyre air pressure, the longer it takes to heat up. (When tyres are rolling, they are working = heating up). So if you need that ultimate grip earlier, then reduce the air pressure!
Technical specifications: